Rodeo of Smiles
Friday, May 31, 2024
Held in the Aspen Custom Trailers Arena.

Exclusive event for children with special needs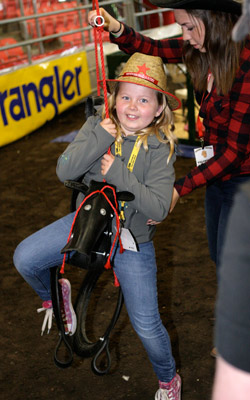 Special needs children from the Black Gold Regional School Division of Leduc and surrounding areas receive a personal invitation to spend the day at a rodeo event organized especially for them.*
Rodeo of Smiles features a petting zoo, mascots, games, face painting and so much more!
Rodeo of Smiles is sponsored by community businesses and volunteers and would not be possible without their generosity.
'One student's mother cried when her child got to ride a real horse, he has multiple handicaps and would have never had this opportunity if not for the Rodeo of Smiles. So thanks to you, Tonya, the sponsors and all the volunteers.'

Holly McEachren, Special Ed Co-ordinator
'There are so many experiences for these children that they wouldn't get otherwise. It is a great opportunity to have a special reward for some of our special students who work so hard & have to struggle with so many academic and social situations during the year. Many of these students would never have had an opportunity to be on a horse, pet a rabbit, go on a carnival ride. This experience is so full of lessons and opportunities to have hands-on experience with things they may just read about. They get to know a little more about the world when they are part of the Rodeo of Smiles. Thank you Tonya for all your hard work.'

Crystal Fandarick, Calmar Elementary
This event is closed to the public to protect the privacy of the participants and their families. Only registered guests, sponsors and volunteers will be admitted.   
Deadline for participant applications is May 15th.
*Participation is limited to registered guests only