Cowboy Church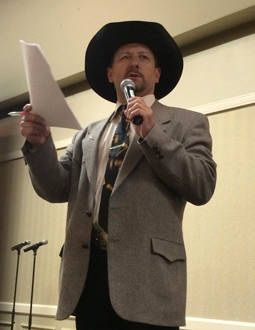 Featuring: Ben Kellert 
Sunday at 10:15 a.m (last day of rodeo)

Join us at the Leduc Recreation Centre Fieldhouses for an Interdenominational worship service.

Sunday morning for church, Cowboy style, led by Ben Kellert.
This service is like the western way of life. Open handed, open hearted and open to all who wish to come.
About Ben Kellert 
Ben was born and raised east of Millet and lived there until 1978 at which time he and his parents relocated to Wetaskiwin. Upon completion of high school, he entered college in Edmonton. After college, his road took him to Calgary, Brooks, Barrhead, Edmonton, Westlock and now Killam. During that time, he was involved in Youth ministry, Street ministry, Prison ministry, Chaplaincy, Cowboy Churches, Music and many other activities in the communities he resided in.
Ben is married to Tanny, and they have 2 married children and 4 grandchildren residing in Edmonton and Fort McMurray.
In 2006, he was able to fulfill one of his childhood dreams by attending the Western Canadian School of Auctioneering. Over the past 16 years, he has had opportunity to auctioneer and subsequently, meet many wonderful people along the way.
He has a passion for music and has had numerous opportunities to pursue this intense interest via singing in a choir that traveled through New Zealand and Fiji, Edmonton's Singing Christmas Tree, The Gospel stage at Big Valley Jamboree, singing the national anthem at an Edmonton Eskimo's football game and The Alberta Legislature.
He also emcees numerous Country Gospel Jamborees during the summer.
He is the Pastor of 2 churches and is serving his second term as the Mayor of the Town of Killam.
Ben is enthusiastic about music and sharing the gospel looks forward to any opportunity he has to share his faith in Jesus Christ.