Cowboy Church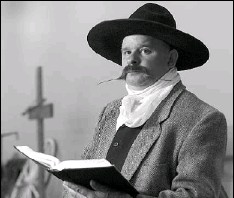 Featuring: Bryn Thiessen (Worship Team)
Sunday at 10:15 a.m

Join us at the Leduc Recreation Centre Fieldhouses for an Interdenominational worship service
Sunday morning for church, Cowboy style, led by Bryn Thiessen, who is a Rancher, Preacher and Cowboy Poet from the Sundre area. He ranches in the upper Red Deer river on the Helmer Creek watershed. He's the Pastor at Cowboy Trail Church in Cochrane. He's presented his poetry throughout the West, even in Ottawa as part of Albertas 100th birthday.
Joining Bryn in leading worship, will be some musicians and singers.
This service is like the western way of life. Open handed, open hearted and open to all who wish to come.