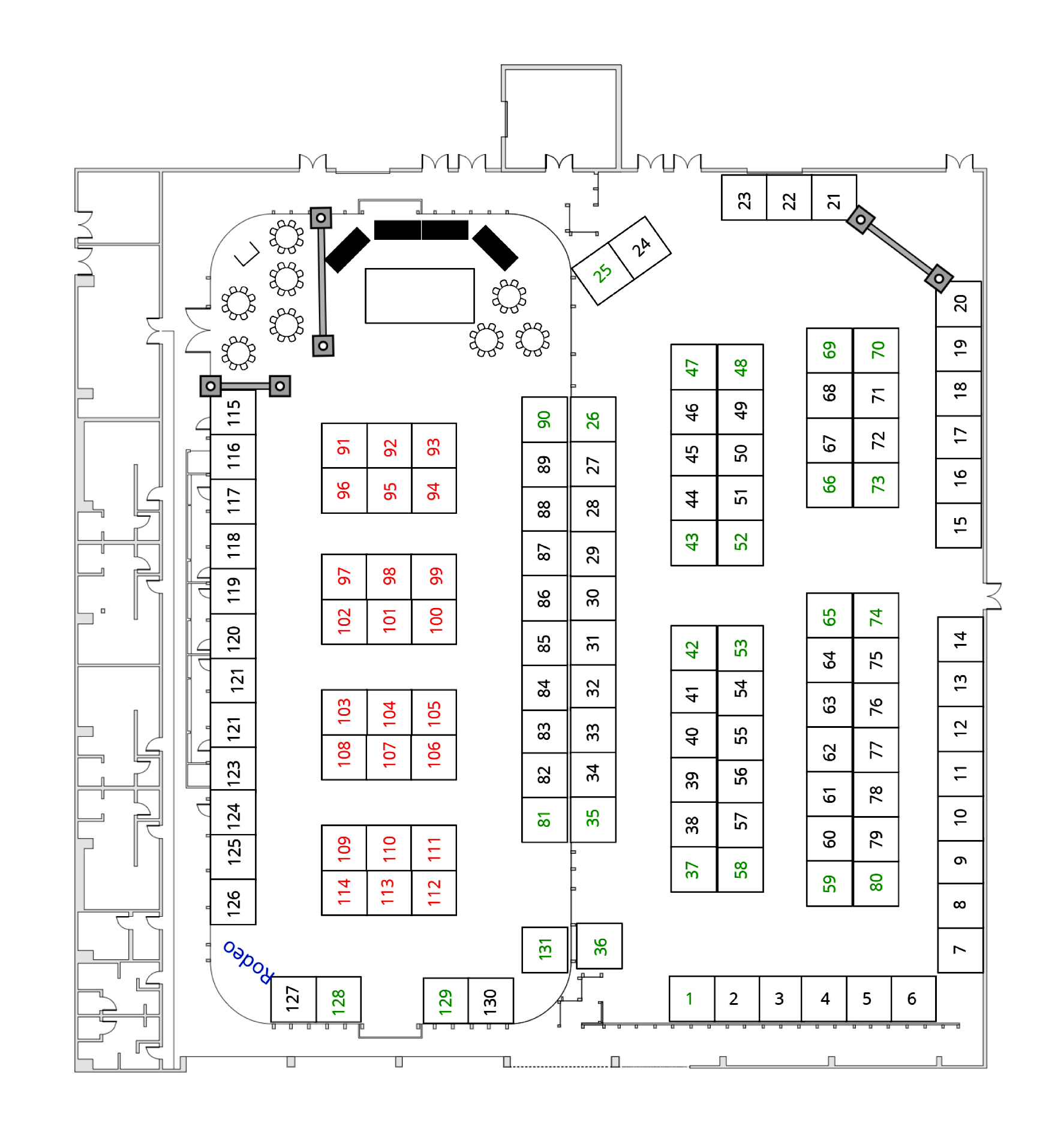 Book your Trade Fair Booth!
Reserve your the booth you want. Choose the booth numbers from our map.
All indoor/outdoor vendors must be booked through the Trade Fair.

Every year, thousands of people make their way to the Leduc Recreation Centre Fieldhouses to take in the Black Gold Trade Fair - jam-packed with entertainment, product demonstrations and great deals. Last year's Trade Fair was a huge success and this year promises another great event, showcasing the best Alberta businesses have to offer.

The Trade Fair is a wonderful marketing opportunity for your business. Network with other business owners, build customer relationships and showcase your products and services to thousands of new customers. But hurry! Booth spaces are always limited and have sold out the past three years.

If you are one of those creative or crafty types who makes your own home made or baked goods, consider booking one of our Farmers Market booths. These are restricted to 'Make it, Bake it or Grow it' businesses.

Registration packages will be mailed to previous exhibitors and space is available on a first come, first served (PAID) basis. Get your entry form in early to qualify for a 10% discount.
UNPAID applications will not be reserved.
Earlybird Discount
Before January 2nd - 10% Discount
Open the Application Form for Pricing
Booths (Infinite Event Services)
Farmers Market Showcase Tables - Red - 24 booths 
Corner Booths - Green - 26 booths
Regular Booths - Black - 81 booths
*Corner Booths are any booth that has isle for traffic on two sides

Booth includes:
10 x 10 Booths
8' high backwall (black)
4' high side wall (black)
1 - 8' decorated table (gold skirting)
2 - folding chairs
1 - 800 watt electrical outlet
Market Tables Include:
10 x 10 booth
1 - 8' decorated table (gold skirting)
2 - folding chairs
Entertainment Area (Leduc Recreation Centre Stock)
Stage - set up runway style w/pipe & drape backdrop
2-4 sets - tip & roll bleachers
1 - 6' table Pure Artist
1 - 6' table Sound Tech 
1 - 6' table - Judges
1 - portable bar
1 - Pepsi Cooler
10 - 5' round tables
80 chairs - 8/table
For more information, the Trade Fair phone number is 780-328-1675 or use the contact form.
Exhibitor Information
The Leduc Black Gold Pro Rodeo & Exhibition Association welcomes you to the Black Gold Trade Fair.  Thank you for choosing to participate in our community's most attended event week!
 
We are confident that with the high volume of traffic through the Leduc Recreation Centre over the weekend, you will have the opportunity to showcase your products and services to many new and returning customers.
 
Detailed event information & regulations are included on pages 3-5 of your exhibitor's hand book.
Below you will find useful information & resources relating to the trade fair, move in times, dates and events.
 
 
Trade Fair Hours

Friday              12 p.m. - 8 p.m.
Saturday          11 a.m. - 8 p.m.
Sunday             11 a.m. - 4 p.m.
 
Exhibitor Move in
To alleviate congestion during the move in process, exhibitors will be assigned a scheduled time to move into their booths. Move into your booth on Thursday, May 30th, 2024 from 3 p.m. - 7 p.m.
No Exhibitors will be permitted to move in after 7 p.m.!
At that time, show services will be completing their final set-up preparations for the opening of the Trade Fair to the public. 
 
Leduc Rodeo Trade Fair Management Services desk will be located at the entrance of the trade fair on Thursday for your convenience. Friday through Sunday the Event Management location will be at the Leduc Black Gold Rodeo Booth in the Trade Fair.
Exhibitors are required to check in prior to unloading their materials to receive their booth number & exhibitor packages. Exhibitor Packages include two (2) exhibitor lanyards. 
Booth numbers will not be disclosed to exhibitors prior to check-in. Note that we try our best to accommodate specific requests as closely as possible; changes to the layout are not possible.
To unload booth equipment & displays, please access the north side of the Leduc Recreation Centre. Exhibitors will be permitted to unload at this location but must move their vehicles out immediately after unloading, to allow other exhibitors access.
Any exhibitors displaying machinery and/or vehicles may be required to move into their spaces with additional considerations, times and/or restrictions.  Please contact 780-328-1675 for more information.
Outdoor Exhibiters will be located in the parking lot of the Leduc Recreation Centre in designated locations.
Exhibit Inspection will occur Friday May 30, 2024 at 11 a.m. Inspectors will ensure all exhibits are within their allocated space, promote the event and the other exhibitors positively and do not impact any safety or fire regulations.
Exhibitor Parking
To provide as much parking as possible for visitors and customers, all exhibitors and their personnel are requested to park in the overflow parking located directly East of the Leduc Recreation Centre.
Exhibitor Move Out
Only when the show closes to the public on Sunday, at 4 p.m., will exhibitors be able to remove their displays. No displays can be removed from the show prior to the Trade Fair closing to the public.  Move out times are 4 - 7 p.m.
Exhibitors must be clear of the facility no later than 7 p.m. on Sunday.
Exhibitor Lounge
A designated Exhibitor Lounge space is located to the left of the stage beside the Saloon in the trade fair venue. This lounge is being provided for exhibitors to take breaks and enjoy refreshments during the event. To gain access to the lounge Exhibitor Passes must be worn at all times.
Event Security
Dedicated security will be onsite Thursday, Friday and Saturday overnight in the trade show locations.
Event Services & Additional Exhibit Requirements
Please forward any additional booth requests (example, additional chairs, tables) by May 23. Additional charges may apply for equipment and use.  
Event Services will be onsite during set-up to assist exhibitors.