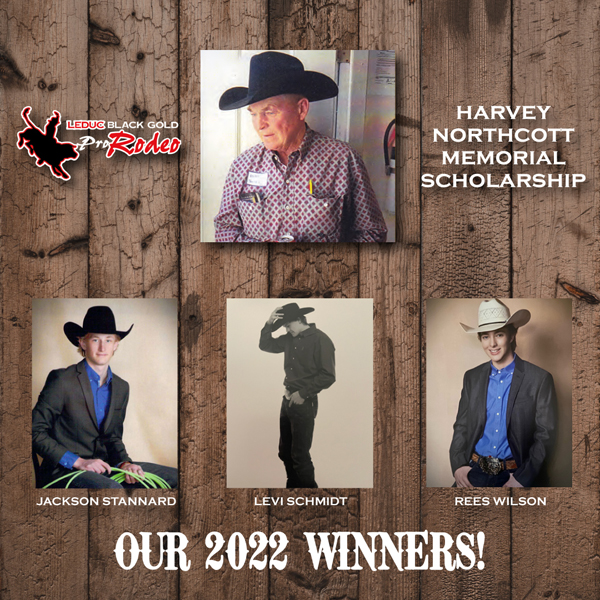 2022 Harvey Northcott Scholarship Winners
Three recipients for 2022!
Thursday, March 23, 2023
The Harvey Northcott Memorial Fund Scholarship
This award is given to worthy young recipients every year. It is in support of those who have demonstrated a commitment to their community and want to pursue post-secondary education in an agricultural-related discipline. The award was created to pay homage to one of the founding members of Leduc's Black Gold Professional Rodeo. It reflects Harvey Northcott's belief in the power of education to build a better world.
We have three winners for 2022! 
Congratulations to Jackson Stannard, Levi Schmidt and Rees Wilson.
Jackson Stannard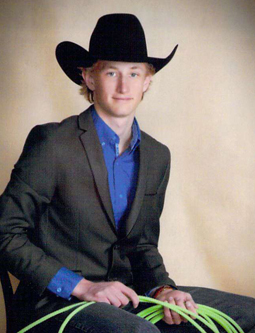 I am moving to Casper, Wyoming to attend Casper Community College in the fall semester, competing for the Thunderbirds rodeo team as a bareback rider. The program I have been accepted into is an Associate of Applied Science degree in agribusiness, spanning over 2 years and will be a combination of business, agriculture and animal science courses. 
I have been riding bareback horses and rodeoing for about a year and a half now. I have found my calling, the lifestyle and the fun is unmatched, in my mind. I have dedicated all of my free time into gaining sponsors and working with some of the best in the sport, to better myself. I believe I have the drive and determination to reach my goals and I will not let anything hold me back. My accomplishments inside the arena are, I made the provincial and Canadian finals in my rookie year of high school rodeo, I won the Tees open rodeo and I have placed in multiple local jackpots. In the last year, I have started team roping. I roped a bit when I was younger but not seriously until now. It is a very difficult sport but I plan to be successful.
I believe that I am a great candidate for your scholarship because I am not only career and passion driven but I can push myself in academics. I have taken and passed some of the highest academic courses you can take in high school; chem 30, English 30-1 and social 30-1. I had the determination to go from getting on my first bucking horse to qualifying for the Canadian high school finals rodeo, in under 10 months.
Levi Schmidt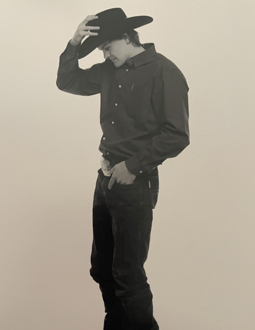 I graduated from Barrhead Composite High School, and plan to further my education at Weatherford College in Weatherford, TX. The head coach, Johnny Emmons, has been a major influence not only in my sister, Taylor's education, but also in her rodeo success. I look forward to furthering my career with the opportunity to also learn from great mentors. 
I have set ample personal goals, not only in the realm of my rodeo success, but also in my horsemanship. I am fortunate enough to have filled my 2022 Canadian Pro Rodeo Association Card, and am enthusiastic about conquering some of my goals before leaving for college this fall.
Aside from rodeo opportunities in Canada, I am optimistic about how continuing my education in Texas will influence my future. I plan to attain a Bachelor of Business Management Degree, which will grant me the foundational contrivance to take over our family business. It has been a family legacy to create opportunities for up-and-coming rodeo athletes. I have watched my grandfather and father, Leonard & Ronald Schmidt,  pour their heart and soul into granting such opportunities. I hope that one day I am able to make a fraction of the difference they have, and further create opportunities in the rodeo industry.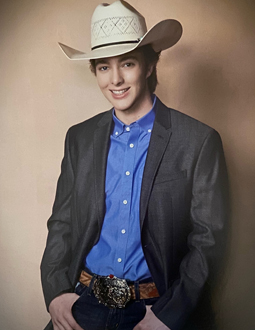 Rees Wilson 
Rees Wilson is a 17 year old, grade 12 honors student from Sundre, Alberta. He is a 4th generation cowboy, and has grown up surrounded by the sights and sounds of rodeo. Starting at a young age, Rees has been competing in rodeos for many years, beginning with junior events. As the years progressed, he developed a skill set in steer wrestling, roping, and cutting, and has been a member of the Alberta High School Rodeo Association for every year eligible. He will be competing in the Alberta High School Rodeo Finals this spring at the beginning of June. Rees's drive and passion for rodeo has led him to pursue it further on, as he will be joining the University of Wyoming rodeo team next fall where he will also begin postsecondary education in the Pre-Veterinary program. Rees is honored to be a recipient of the Harvey Northcott Memorial Scholarship this year
We Wish the 2022 Scholarship Recipients a Great Future
As always, the scholarship selection committee was impressed with all the submissions they received from youngsters in our region. Their entries demonstrate qualities such as perseverance, love of nature, hard work and kindness. The Black Gold Rodeo Association salutes all those young people who are making a difference in their communities including, and especially, those that have earned the 2022 Harvey Northcott Memorial Scholarship. We wish them great success in their future and hope the scholarship helps them provide beneficial service to their community.
The 2023 Scholarship deadline is April 15th
If you know a youth that would be eligible, visit the Scholarship page for all the details.