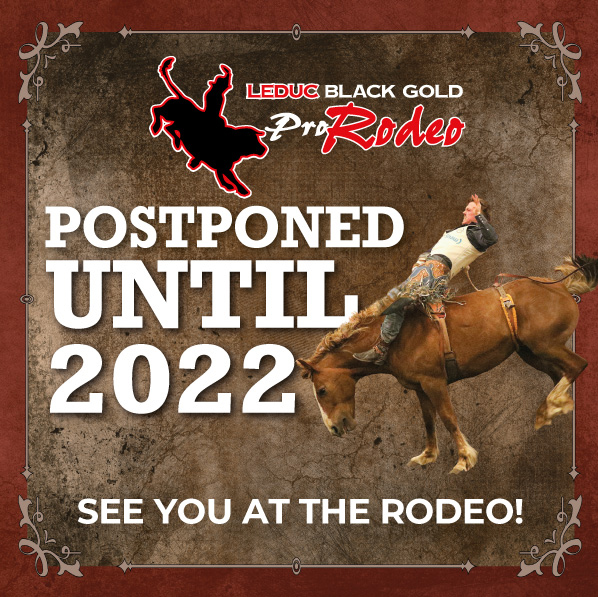 May 2021 Rodeo Events Postponed to 2022
Sadly, we've had to make this tough decision, once again.
Monday, February 08, 2021
May 2021 Rodeo Events Postponed to 2022
The Leduc Black Gold Pro Rodeo and Exhibition Association, in consultation with the City of Leduc, the Canadian Professional Rodeo Association, and Alberta Health Services has made the difficult decision to postpone the Leduc Black Gold Days until 2022, due to the uncertainty surrounding the COVID-19 pandemic health guidelines.
Leduc Black Gold Days consist of two weeks of events built on community and family fun. It includes events such as a ranch rodeo, car show, trade fair, talent competitions, pancake breakfasts, midway, parade, cabarets, all topped off with professional rodeo performances. It comes together through the support of our community and local businesses.
"Black Gold Days brings a significant social and economic benefit to our community", says Mayor Bob Young, City of Leduc. "I know the dedication the Association has to this community and to the sport of Rodeo, this was not a decision they made lightly but I believe it is the right decision for the Association and the City."
"The health, safety and protection of our guests, fans, volunteers and athletes is our top priority", said Dave Rock, General Manager of Leduc Black Gold Pro Rodeo Association. "Given the unknown health restrictions that may be in place, economic instability, and the reality of the extensive preparation that goes into the success of the Leduc Black Gold Days, we know it is the right decision to postpone this year's events."
"Our volunteers, sponsors and community partners are the backbone that allows us to produce this world class event", Trevor Wallace, President, Leduc Black Gold Pro Rodeo. "However, we are a resilient group with over 50 years of rodeo under our belts. We know that healthier days are on the horizon and we will use this opportunity to ensure our events are exciting and enjoyable as ever in 2022."
Although we will not be proceeding with previously scheduled events in May of 2021, we may plan other events, as 2021 progresses and restrictions ease, we will look for opportunities to hold events and engage with our community.
We appreciate your understanding and on-going support for 2022.
Leduc Black Gold Pro Rodeo and Exhibition Association