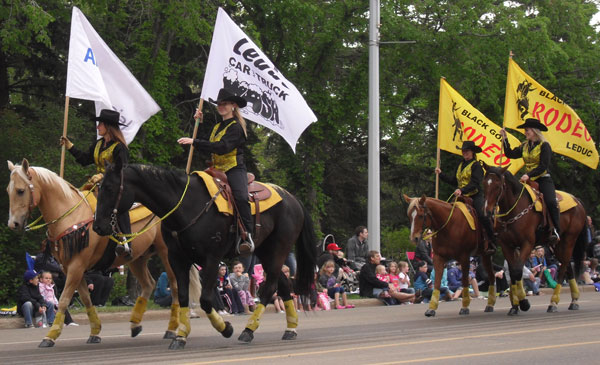 Black Gold Parade Viewing Tips
Raising Parade Spectating to an Art Form
Thursday, June 02, 2016
Readers may be forgiven for thinking they know how to watch The Black Gold Rodeo Parade. Many have years of experience in this activity, which they may have begun as wee shin-huggers trying to view the spectacle through a forest of adult legs. With a resume like that, one can easily be led to believe one is rodeo parade-savvy and don't need any advice. However, by following the wisdom of the tips contained within this missive one can elevate a good experience to "great" and beyond.
Tip #1
Go early. If you don't establish a good spot ahead of the rush, you will be stuck behind a wall of freakishly tall people; the Leduc Composite High School Basketball team, for example. The only way to thwart this situation is to go early or be tall enough to join the Leduc Composite High School Basketball team.
Tip #2

Go early. Arriving before the coming crush of humanity will allow you to walk unfettered to your desired parade-watching spot. This is because once the throng of spectators arrives; everyone is packed in so closely, changing vantage points is out of the question. The temporary population density (we're not talking IQ but number of folks per square foot) is so concentrated; you have to wait for someone to exhale to provide enough room for you to inhale. 
Tip #3
Go early. Getting off to a quick start means you can create a small oasis for yourself at street level with a folding chair, beverage cooler and an umbrella. The umbrella isn't just in case of rain, but to poke people standing in front of your chair in the butt. Brandishing it threateningly can radically increase the amount of personal space available to you.
Tip #4
Go early. Parades are always better with snacks and an early start gives you time to stop for a coffee and muffin and something to shut the kids up during the interminable wait until the start of the parade. For the pedestrian-minded, special additives may be added to the coffee to enhance the experience. Examples of these additives include flavoured whiteners, sweeteners, Bailey's Irish Cream or Everclear; depending on how well-behaved your kids are.
Tip #5
Go early. If you have to drive to the parade route, you can forget parking unless you set out at first light or even the night before. Nothing is worse than spending the entire parade driving around desperately seeking a parking spot. You end up seeing only occasional snippets of the parade in your rear-views, as you participate in the alternative parade of snail-pace driving late-comers who are also looking to park before the parade is over.
And one last piece of advice...
So there you have it. By following these five simple guidelines, you can significantly enhance your parade-watching experience. Oh, and one other suggestion; don't forget to go early!