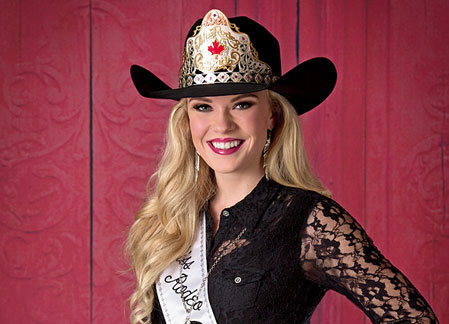 Black Gold Rodeo Honoured By Royal Visits
Thursday, June 02, 2016
(BGR) Leduc's Black Gold Professional Rodeo, beginning this evening (June 2), will be enjoying a Royal Visit by the reigning  Rimbey Rodeo Princess, Lindsay Newman, as well as the current Miss Rodeo Canada, Samantha Stokes. The delightful duo is going to be active participants in many rodeo activities with many opportunities to mingle with rodeo goers.
A True Canadian Champion
Sweet Samantha, who was crowned winner of the Miss Grande Prairie Stompede 2014, had been named as Miss Rodeo Canada last November. The stunning Ms. Stokes will be making her first Black Gold Rodeo appearance at Saturday's annual Pancake Breakfast before taking part in the extremely popular Rodeo Parade which begins at 10:00AM. The Rodeo Canada Queen will follow that up with public appearances at the Trade Fair at about noon plus added opportunities to meet her at the rodeo events in the evening and the cabaret which follows the riding and roping events.
Busy Weekend Planned
Ms. Stokes will be also be meeting rodeo fans the following morning at the Rodeo Breakfast and will be mingling with the masses at the entertainment-filled Cowboy Church which gets underway at 10:30AM. Following another noon-time appearance at the Trade Fair, Samantha will be closing out the rodeo with an introduction during the day's Opening Ceremony at 2:00PM  and will stay until the Cattle Removal following the events.
Primed for a Princess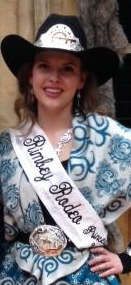 Rimbey Royal, Princess Lindsay will also be making a full weekend of it starting with the Rodeo of Smiles on Friday morning, followed by a sponsor luncheon and then an appearance at the Trade Fair slated for 2:30 on the Main Stage. After that, young Lindsay will doing more mingling at the Toonie Barbecue at 4:00 and will help judge the Pet Parade at the Family Fun Night which has a 5:30 start.
Never a Dull Moment

Lindsay will also be in attendance during the Friday nigh rodeo events and will be introduced at the Opening Ceremonies and has commited to staying up late for the ever-popular Dance in the Dirt on Friday night. Lindsay's Saturday will be equally hectic with  the Pancake Breakfast which runs between 8:30 and 11:00, as well as another appearance at the Trade Fair slated for noon. Once more, Princess Lindsay will be introduced during the actual rodeo performances and will bee available to meet more rodeo fans at the cabaret following the riding events.
Don't Miss these Misses!
Miss Rodeo Canada and Rimbey Royalty, Princess Lindsay Newman are just two more great reasons to attend the 2016 edition of the Black Gold Rodeo. It's the easiest way to be a winner with a pair of "Queens".
The Royal Schedule
(All times are approximate)
Miss Rodeo Canada 2016, Samantha Stokes

Thursday

Kick Off Rodeo Performance: Doors open at 5:30 pm

Opening Ceremonies: 7:00pm

Friday

Rodeo of Smiles (Closed event) 9:00 am until 11:30 am

Summit ESP Luncheon: Noon - 2:00 pm

Leduc Ag Days Trade Fair: 2:30 pm to 3:30 pm

Toonie Barbecue: 4:00 - 5:00 pm

Leduc Regional Family Fun Night: 4:00 - 5:00 pm

Rodeo Performance: Doors open at 5:30

Opening Ceremonies: 7:00 pm

Dance in the Dirt: Following the last ride of the night

Saturday

Pancake Breakfast: 8:30 - 11:00 m

Black Gold Days Parade: 10:00 am start

Leduc Ag Days Trade Fair: Noon to 1:00 pm

Rodeo Performance: Doors open at 5:30

Opening Ceremonies: 7:00 pm

Cabaret: 9:00 pm start

Sunday

Rodeo Breakfast: 8:00 am - 10:00 am

Cowboy Church Service: 10:30 am start

Leduc Ag Days Trade Fair: 1:00 pm to 2:00 pm

Rodeo Performance: Doors open at noon

Opening Ceremonies: 2:00 pm

 

 

Rimbey Princess 2016 Lindsay Newman

Friday

Rodeo of Smiles (Closed event) 9:00 am until 11:30 am

Summit ESP Luncheon: Noon - 2:00 pm

Leduc Ag Days Trade Fair: 2:30 pm to 3:30 pm

Toonie Barbecue: 4:00 - 5:00 pm

Leduc Regional Family Fun Night: 4:00 - 5:00 pm

Rodeo Performance: Doors open at 5:30

Opening Ceremonies: 7:00 pm

Dance in the Dirt: Following the last ride of the night

Saturday

Pancake Breakfast: 8:30 am - 11:00 am

Black Gold Days Parade: 10:00 am start

Leduc Ag Days Trade Fair: Noon to 1:00 pm

Rodeo Performance: Doors open at 5:30

Opening Ceremonies: 7:00 pm

Cabaret: 9:00 pm start