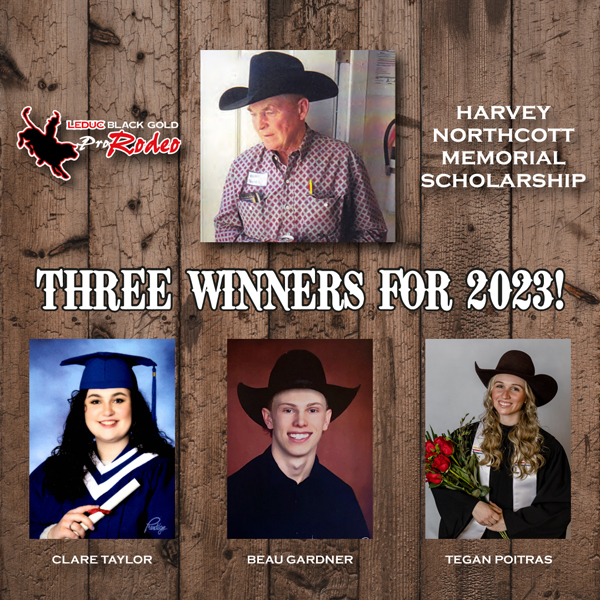 2023 Scholarship Winners
Three recipients again this year!
Wednesday, August 02, 2023
The Harvey Northcott Memorial Fund Scholarship
This award is given to worthy young recipients every year. It is in support of those who have demonstrated a commitment to their community and want to pursue post-secondary education in an agricultural-related discipline. The award was created to pay homage to one of the founding members of Leduc's Black Gold Professional Rodeo. It reflects Harvey Northcott's belief in the power of education to build a better world.
We have awards three lucky recipients in 2023!
Congratulations to Clare Taylor, Beau Gardner and Tegan Poitras!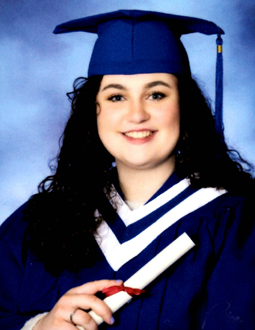 Clare Taylor
Hello! My name is Clare Taylor.  I am a 12th grade student from Manning, Alberta.  I have competed in rodeo and trained horses throughout my junior high and high school career.  I will be continuing on this path in the fall by attending Lakeland College for Animal Science Technology: Equine major.  At college, on top of school work, I plan to continue training my filly and competing in college rodeo.  After that program I plan to take Lakeland's Pre-Veterinary diploma, followed be veterinary school at U of C, and eventually a residency in equine surgery.  I also plan to compete in rodeo professionally after I have completed my education.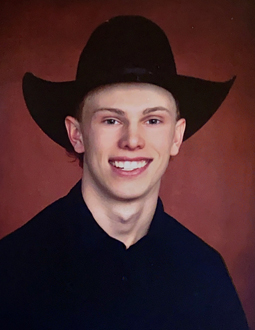 Beau Gardner
The Northcott name is synonymous with rodeo in North America and I am honored to have been selected as a recipient of the 2023 version of the Harvey Northcott Memorial Scholarship. I'd like to thank the Leduc Black Gold Pro Rodeo & Exhibition Association for making this opportunity available for graduating students.  The financial portion of this award will assist me as I will be attending Western Texas College in Snyder Texas in August. I will be working towards my Associates Degree in Ranch Management while competing on the rodeo team for Coach Rhodes. To have my name on a plaque with so many talented and deserving previous recipients of this scholarship is also an honor. I grew up in the rodeo arena, my family has been longtime stock contractors, bull raisers and event producers. I have worked for a local feed yard for several years and I would like to use the education I earn at WTC to bring technologies and efficiencies to both the confined feeding and cow calf industries.  I have been competing since I was 8 years old, starting in the steer riding and moving in to the bull riding when I was 13. My immediate plans in the rodeo arena are most certainly to fill my PRCA permit while in Texas and chase the yellow bucking chutes of Vegas.
 
Tegan Poitras
I am a grade 12 student from Ponoka, Alberta. I am honored and privileged to be chosen as the 2023 Harvey Northcott Memorial Scholarship recipient. My future endeavors will be attending Red Deer Polytechnic this fall and taking a Business Diploma that will lead me to work in the financial field or carry on to become an Accountant. This two-year Business Diploma will provide me with the knowledge to manage and gain skills, insight, and confidence in the working world. I know I will benefit from this diploma because I can use it in all aspects of my life. I have been passionate about the Western lifestyle, rodeo, and my horses for as long as I can remember. Rodeo has been a part of my life since I was a little girl, growing up in the Ponoka Roping and Riding Association where I got the confidence to compete with the kids of high school rodeo. Some of my accomplishments are qualifying for the Provincial Finals each year in all of the events that I compete in; Barrel Racing, Pole Bending, Breakaway Roping, Goat Tying, and Team Roping. I have qualified for the Wildrose Finals in Barrel Racing and Breakaway Roping. I plan to amateur rodeo for a few years in Alberta and eventually rodeo professionally in Canada. Although high school is over, I am ready for my next adventure in life, wherever that may lead me. Thank you for this opportunity.