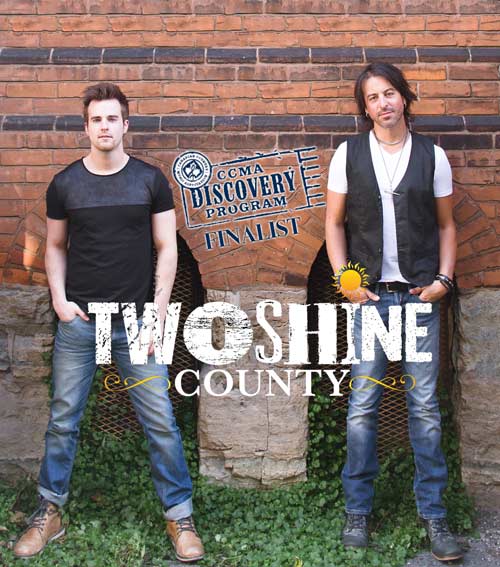 Cabaret
The Saturday night Cabaret dance is one of the most popular rodeo week events!
It's held at the LRC Curling Rink from 9 p.m to 2 a.m. Doors open at 8:30 p.m.

This is a licenced event. Only adults 18 & over will be admitted with valid photo ID.

Entertainment: TwoShine County
TWOSHINE COUNTY
2016 has been a fantastic year for Daron Schofield and Dennis Hann, collectively known as TwoShine County.  In January, the Alberta Country Music Association (ACMA) asked them to perform at the ACMA Gala Awards in recognition of their two ACMA nominations, "Rising Star" and "Group of the Year. 
In February, TwoShine County were invited by the Canadian Academy of Recording Arts and Sciences (CARAS) to play at JunoFest during the 2016 JUNO Awards Week in Calgary and were invited to attend highly-visible red-carpet music industry events.
Just prior to the JUNO Festivities, the Canadian Country Music Association (CCMA) announced that TwoShine County were one of the top six finalists in the National CCMA Discovery Program. Daron and Dennis were flown to Toronto to participate in Discovery Week and perform at a highly exclusive industry-only showcase attended by top-level music industry executives.
This accolade was a culmination of the hard work TwoShine County have put in, having performed at the CCMAs in Edmonton (2014) and performing at two prestigious CCMA Songwriter Showcases at the CCMAs 2015 in Halifax.  Being a finalist in the CCMA 2016 Discovery Program brought a lot of media and industry attention to Daron and Dennis at Canadian Country Music Week in London this year, where they were asked to perform at three showcases including one at a local Mission to help bring Country Music to a local charity – a tradition that TwoShine County started in Halifax in 2015.
The Calgary-based duo has released four singles to date: "Make It With You", "Whole Lotta Love", "Love This Song", and "Love on Fire". They have completed two cross Canada Radio Tours, and released a six-track "Whole Lotta Love" E.P., in December 2015.
TwoShine County release their first full-length album titled, "Mixtape" on November 11, 2016 and have released a new single to radio - the catchy song titled, "Track 9".