Midway Rides and Amusements
The Midway is Back ON again for 2016
West Coast Amusements and Party King have stepped up to save the weekend for those thrill seekers that want to ride.
Midway hours:
Kids of all ages love the thrills and chills of midway rides!
The Midway is located in the parking lot of the LRC and is only available during Rodeo Week.
Thursday No rides Thursday
Friday 3 p.m. - 11 p.m.
Saturday 11 a.m. - 11 p.m.
Sunday 12 noon - 6 p.m.
Prices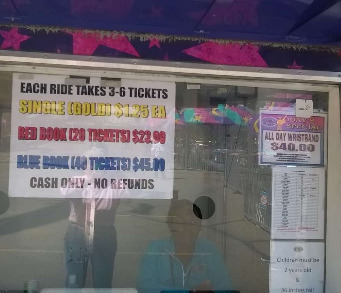 The Midway is provided by the midway company and they set the ticket prices. We do not have ticket price information.
Wrist bands have not been available in past years, but West Coast Amusements is a new Midway for Leduc and they have not informaed us whether there will be wrist bands or not. We will post information once we find out.
Weather
Midway operation is dependent on the weather and the hours are subject to change. If you see the wheels turning, you can assume the Midway is open.
The Midway is run by an independent company and the Leduc Black Gold Pro Rodeo & Exhibition Association cannot guarantee operation at any time during Rodeo Week.