The Black Gold Rodeo Sponsors and Supports the Community
The leduc Black Gold Rodeo and Exhibition Association proudly supports many local community groups and rodeo events. Here is a list of groups we support. It is not a complete list, but we will add more soon.
Thorsby Gymkhana & Roping Club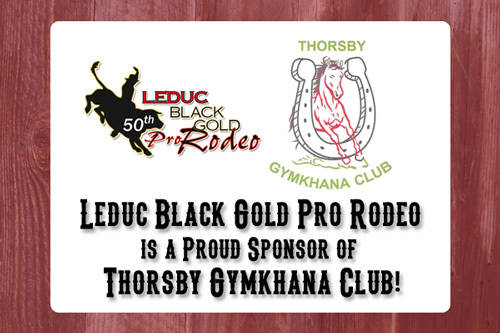 Leduc Black Gold Pro Rodeo is proud to sponsor Thorsby's Gymkhana Club! 
Boys and girls ranging from Grade's 6-12 compete through The Alberta High School Rodeo Association in rodeo events, such as barrel racing, team roping, tie down roping, bull riding, and many more exciting events! AHSRA contestants are given a great opportunity to travel Alberta, meet fellow contestants, as well as competing in Provincial and National Championships. Many High School Rodeo contestants go on to compete at the amateur level, and many move on to the CPRA level, being able to compete in rodeos such as the Leduc Black Gold Pro Rodeo! 
On April 27th, 28th and 29th they will be hosting their 5th annual Sr. High School Rodeo and 3rd annual Jr. High School Rodeo in Thorsby at the Haymaker Ag Event Centre! The rodeo will play host to local competitors as well as approximately 200 contestants from across central Alberta!
  Visit Their Facebook Page Here