Miss Leduc Black Gold Rodeo Competition
Announcing the Miss Rodeo Leduc Black Gold Royalty Program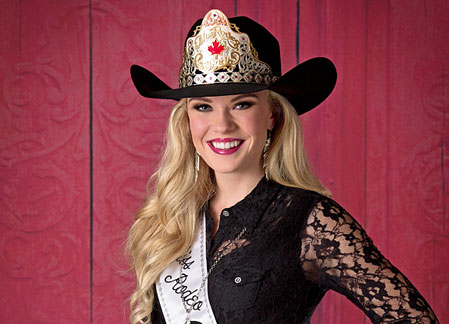 If you are a young woman who loves rodeo, the Leduc Black Gold Pro Rodeo and Exhibition Association may have an awesome opportunity for you.  The Association is excited to announce the return of the Leduc Black Gold Royalty program.
Dana Kostick, the chairperson of the Royalty Committee, says "Bringing back the Royalty program is a very exciting initiative. We are building on the energy that the Association has been creating around the community and with the Rodeo. The Royalty program is aimed at celebrating the traditions of agriculture and promoting the sport of Rodeo and the community of Leduc."
"Taking part in the Royalty program will be a wonderful experience and a great opportunity for contestants." Kostick continues. "As Rodeo Royalty you will be an ambassador for the sport of rodeo, the Leduc Black Gold Pro Rodeo Association and the City of Leduc."
"Our Rodeo Royalty will attend events throughout the year including rodeos, local fundraisers, and ag-related events." Dave Rock, President of the Leduc Black Gold Pro Rodeo Association noted, "As a representative of the Leduc Rodeo Association, the winner and her ladies-in-waiting are given the chance to travel to events throughout Alberta, make connections with kids, fans, sponsors, contestants and organizers. They will have opportunities to promote the sport, work with media, network with people, build public speaking and presentation skills, and much more." 
Contestants must be between 20-24 years of age with riding experience and access to a horse and trailer during her reign, which will run from January to December of each year.
Kostick is excited that the first year's competition will take place in January 2017. "It is a very exciting time to be part of Rodeo and the Leduc Rodeo Association," says Kostick, "2017 looks to be another great year for Rodeo in Leduc." The 2017 competition will feature public speaking, interviews, and horsemanship sessions. Applications to take part in the Miss Leduc Black Gold Rodeo competition are being accepted until December 31 each year.  Miss Leduc Black Gold Rodeo will be crowned at a rodeo sponsored community event to be held in mid-February.
Welcome to the Miss Rodeo Leduc Black Gold Competition
The rewards for competing in the Miss Rodeo Leduc Black Gold Competition are numerous.  Every participant has the opportunity to garner one of the richest experiences of their lives and at the same time create a solid foundation for their future endeavors.  Lifelong friendships are made and many doors are opened to all participants!
During the competition, participants are judged according to some main categories, including personality, appearance, horsemanship, and other/miscellaneous.  Scores are collected from each event, and categories include, but are not limited to: horsemanship, speech presentation, interview, impromptu questions, modeling, photogenic judging, overall personality, overall appearance, and written test.
Intelligence and good common sense is a big factor in the personality division.  Education and conversational ability in professional rodeo, current events and other areas are vital with special emphasis on grammar and enunciation.  A participant should radiate self-confidence, showing maturity, high moral standards, sincerity and integrity.  Miss Rodeo Leduc Black Gold Competition participants should have the ability to project their personality, whether it is from horseback in an arena, on television promoting rodeo, or before an audience.  Also considered are a sense of humor, showmanship, ambition, desire, enthusiasm and a happy outlook on life in general.  Be yourself!
In the appearance category, participants should be aware of what fashionable western dress is and be knowledgeable on current trends in the western wear industry.  Attractiveness includes neatness and cleanliness in every detail.  Meticulous care in general grooming is essential for a participant to be considered for the title of Miss Rodeo Leduc Black Gold.  Participants are responsible for supplying their personal western attire for all competition events.
Horsemanship is also a vital part of the Miss Rodeo Leduc Black Gold competition and reign.  Miss Rodeo Leduc Black Gold is introduced during professional rodeo performances, rides horseback in parades and makes countless other appearances where she is expected to ride a horse. 
On behalf of the Leduc Black Gold Pro Rodeo & Exhibition Association, GOOD LUCK!
Entry Closing Date
Completed applications must be received by the Leduc Regional Chamber of Commerce. Entries are closed for the 2017 Royalty competition. Get your entry ready for 2018.
How to Apply
Please download the application and view the program rules and application requirements.
Mail or drop off applications to:
The Leduc Regional Chamber of Commerce
6420 50 St
Leduc, Alberta
T9E 7K9
c/o Leduc Royalty Committee
Location hours are: Monday-Friday 8:30 – 4:30
If you have any questions please contact:
Dana Kostick – Rodeo Royalty Chairperson (780) 233-5122
E-mail: leducroyaltycommittee@blackgoldrodeo.com
Applications must be sent in a SEALED envelope. If application is not sealed upon reception,
it will be discarded or returned unopened, and candidate will forfeit her entry for that
competition year.
DO NOT SEND ELECTRONIC APPLICATIONS
Click here for the Miss Rodeo Application