Miss Rodeo Leduc Black Gold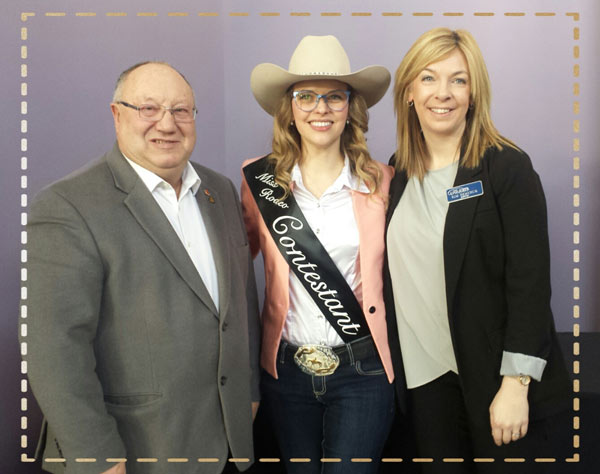 The Leduc Black Gold Royalty Committee would like to invite you to the following:
Tea and Public Speaking
Saturday, January 28, 2017
Doors open at 10:30am
Southfork Baptist Church
Hwy 2A TWP492 & RR251
Tickets - $10.00 in advance - very limited seating.
For tickets, call Dana at 780-233-5122
Horsemanship Competition
Sunday, January 29, 2017
10:30am Warm-Up
11:00 am Judging
Dawnville Farms
49179 RR250
Leduc County, Alberta
We are currently in the process of selecting the 2017 Miss Rodeo Leduc Black Gold Rodeo.
Contestant Lindsay with Leduc County Councillor, Clay Stumph and Chamber board of Directors, Kim Demchuk from the Chamber Luncheon.
Lindsay spoke at the luncheon announcing the return of the program, that she is an official contestant running for Miss Rodeo Leduc Black Gold, and looks forward to working with the City, County, and Chamber if she successfully completes the program.
If you  wish to apply for next year Miss Rodeo competition, visit the miss rodeo competition page.
Click here to see the miss rodeo history and past leduc rodeo royalty.